Guide to the best men's opal rings in 2022
What is opal?
Opal leaves silica deposits between the sedimentary rock layers, which are deposited at relatively low temperatures and may appear in cracks in almost any type of rock. These tiny silica fragments produce rainbow-like in the precious opal colour. The size and location determine the quality of the stone and give each opal a unique and unique color.

Opals are divided into two categories: precious and ordinary. The inside of precious opal shows play-of-color (iridescent), and the color changes with the light, while ordinary opal does not.

There are many types of opal. Fire opal, usually called Mexican fire opal, is transparent to translucent, showing warm colors of yellow, orange and red. Opals produced in Peru appear blue or blue-green. The black opal is the darkest and rarest of all opals.

Opal is very rare and very precious in ancient times. In Europe, it is a gem cherished by the royal family. Because of its magical light, opal can be traced back to the mystery of the Middle Ages. It is said that opal can increase creativity and symbolize loyalty. Opal is the birthstone of October. It is also a stone to celebrate the 14th anniversary of marriage. The name opal is believed to be derived from the Sanskrit word upala, which means "jewel", and later the Greek derivative "Opallios", which means "to see a change in color".
Are opal rings right for you?
Opal has dreamy colors and changes in the light of light, which other gems can't do. Opal rings are often unique and look bohemian. The design of our men's opal rings is a combination of modern and retro.

Opals are not as durable or hard as other gems. You need to be extra careful because they are easy to chip, scratch and crack. Our approach is to coat the surface of the opal with marine-grade resin, which is waterproof and scratch-resistant. Due to the sealing process, It also has a very good effect on preventing chipping.
---
Browse Our Opal Rings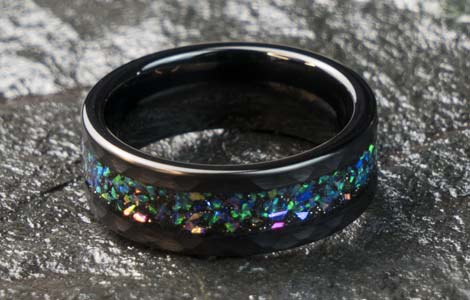 The diamond-cut hammered tungsten ribbon separates the blue opal material. The rare blue-green opal from Peru changes color with the light, and the unique inlay combination forms a natural cosmic style.
This handmade men's tungsten steel wedding ring is inlaid with colorful opals. The rare colored opal fragments show a series of dazzling rainbow colors in the sun.

For grooms who love music, this tungsten steel wedding ring inlaid with guitar strings and polished rose gold sleeves is far from a simple wedding ring, stylish and noble. A work with guitar strings represents the wearer's love of music. This men's wedding ring is more like a unique piece of art. As an excellent alternative to wedding rings, this ring will stand out among many standard wedding rings.
---